I would describe the JCABC classes with the word "abundant". Each class is packed with different kinds of activities. I learnt so many skills in class, like observing, listening, and being able to understand a character's emotions through observing their expressions and even costumes. Normally our Chinese class curriculum is very structured and surface level, but through this programme I have learnt to interpret and express emotions.
Luk Chak Kan
Student, Yan Oi Tong Tin Ka Ping Primary School
Jockey Club Arts-based Cross Curriculum Creative Learning Project
Cooking and translation, two seemingly disparate professions, are somehow both comparable to dancing in fetters, which subjects creativity to constraints. For translation, being strictly faithful to the original text surely guarantees accuracy. Yet, in the context of play translation, creativity is the pinch of magic seasoning for a translator to produce a great translated script. The original script is your given recipe. You can never make stir-fried rice noodles with beef following a recipe for spaghetti carbonara. A play translator has no room for twisting the plot, the focus nor the intended effect of the original play. The translation could, nevertheless, be spiced up with creativity to cater to the target audience as much as possible. Through repeated attempts, a play translator strives to retain and refine the original flavours of the script in the translated play, with every bit of it so chewed over to give the audience an authentic taste of a foreign play untainted by cultural differences.
Jolian Ma
Emerging Translator
Plays for Young People III
Through exploration, I understand that what is personal to you, even when you feel others might not understand it, will resonate somehow with others. So in my creative journey, I have shifted my focus on creating from ''wanting to make my audience feel happy'', to ''wanting to tell a story that is personal to me.''
In this Project, I realised that my personal story that I believe can only relate to people in Malaysia, also somehow resonates with people outside of my country too. Although the demographic, circumstances, and environment might be different between countries, a good story will thrive anywhere in the world, and people will have a connection with that story.
Khairi Anwar
Playwright
Plays for Young People III

Last year I spent a lot of time exploring my inner world in order to break out of my creative comfort zone. Previously the pace of life was always hectic so that creatively, what was possible and achieving a result often took precedence. As I began this period of exploration, I tried not to give into preconceived ideas and found that even in failure, I could make new discoveries.
During the JCABC Project, aside from using the 7 tools to develop critical thinking through observation and thinking, reflection was also a vital part of the process. This mirrored my personal theme from last year! During the project, I encouraged students to explore as many materials as possible, without any parameters for success or failure. We all enjoyed the classes so much!
Keung Lap Yu, Candice
Creative Practitioner
Jockey Club Arts-based Cross Curriculum Creative Learning Project
The sense of exploration in trying new things has always been a joy for me. Beyond the boundaries of theatre and education, the appreciation of creating art through food has always been a direction I wanted to dive into.
In The Sneaker Show, I had to adjust to working in a virtual production rather than being on stage and so focusing on performing more through facial expressions rather than the body. This is more similar to acting in film. However, in both Walking the Amazon and The Sneaker Show, whether the journey was smooth or difficult, the key takeaway for me was maintaining the right mindset for listening and exploration.
Kevin Kan
Assistant to Director
Classics for Juniors 2021: Walking the Amazon
Actor
"From Page to Stage®" Programme 2022: The Sneaker Show
I have been an English teacher my whole career yet my world has opened up through AFTEC's creative learning programme. This past year has shown me that the arts are not unobtainable, that everyone has the ability to create. Through AFTEC, I understand that teachers just have to provide the right creative environment so that every student can fall in love with and get involved in the arts.
Yiu Sin Yan, Crystal
Teacher, Christian & Missionary Alliance Sun Kei Primary School (Ping Shek)
Jockey Club Arts-based Cross Curriculum Creative Learning Project



I explored many different ways to express my body language to tell a story. This programme has shown me how movement and words combined can be very powerful.
After the programme, I felt like I connected with my inner self, able to portray my feelings through actions and not just with words.
Victor Ng
Student, Tsung Tsin Christian Academy
Creative Box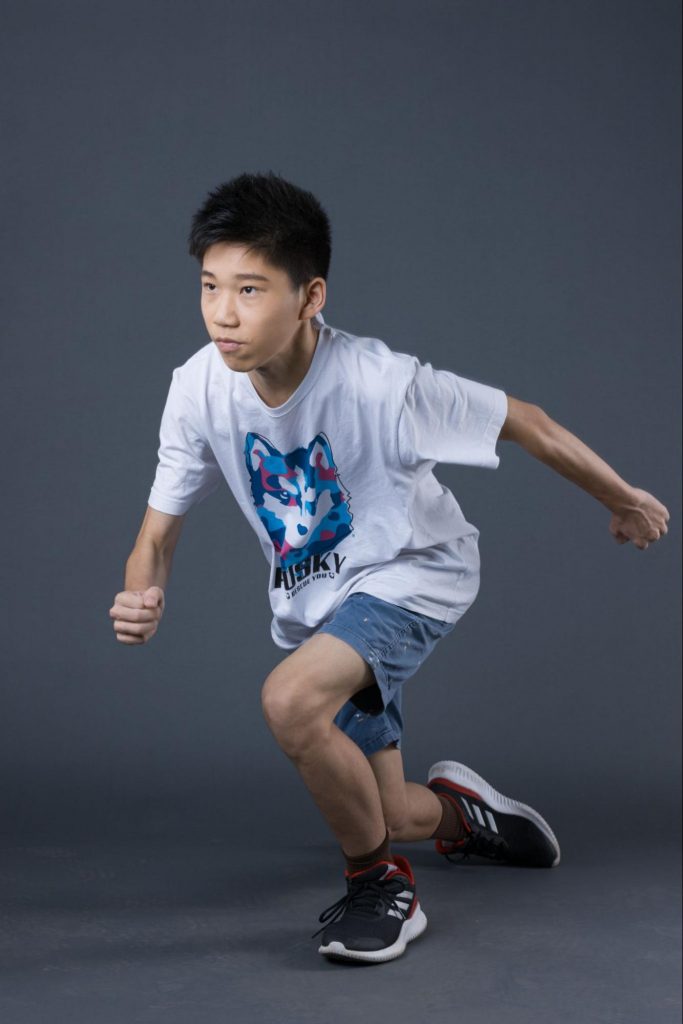 Last year, I studied Landscape Architecture at university which increased my awareness of the environment and green infrastructure and how they alleviate global warming while improving our mental health and living environment. These topics are new to me but I am deeply interested in them. My interest in landscaping led me to focus on the vital connection between people and plants in the final project, combining the techniques I learned during the workshop.
Lucy Wu
Undergraduate, The University of Hong Kong
Creativity & Transdisciplinarity
After a period of teaching and writing, coming back to acting was a stretch yet it opened up new possibilities and responsibilities for me as an actor.
During Walking the Amazon, because of my teaching, I was able to see the performance as a whole, to see things from the outside and understand it more from the view of a director. This ability to see the bigger picture allowed me to make different choices in acting.
Pang Cheuk Yin, Perrin
Actor
Classics for Juniors 2021: Walking the Amazon
"From Page to Stage®" Programme 2022: The Sneaker Show

At AFTEC, each time I meet a new group of young people, I remind myself that they are all individuals, each with their own story and thinking. It gives me a new way to think about and approach teaching props design which used to be in a methodical manner. Teaching is not just about the skills but also to listen, understand and develop connections.
Chow Hiu Man, Abbu
Artist Educator
Jockey Club "Arts & Actions" Project — The Absolutely Fabulous Theatre Connection "Arts for Empowerment"

It has been a tremendous challenge but also an exciting opportunity to design a year-long curriculum for a woodwork creative course, working with primary school students to design a creative working environment in the school.
The pandemic created many complications: how to positively, effectively yet flexibly carry on teaching the students as well as maintaining good communication with the teachers and adapting the course and methods quickly to mitigate new situations. There were changes but by continuing to learn from each new situation, this became the biggest lesson for both the creative practitioners and teachers.
NG Ka Chun, Hei
Creative Practitioner
Jockey Club Arts-based Cross Curriculum Creative Learning Project

Taking part in the Project opened my eyes completely. I always thought the arts only existed on stage or as artworks for instance. It turns out that the arts can have multiple entry points. For instance, designing a shoe starts with the drawing of the pattern and colour – these are all part of the process. I also discovered that the field of arts is very wide and encompasses lighting design and film techniques. I can even unleash my creativity through the process of hands-on creation, which is so rewarding and brings me closer to the arts.
Pang Ka Ying
Teacher, Caritas Mother Teresa School
Jockey Club "Arts & Actions" Project — The Absolutely Fabulous Theatre Connection "Arts for Empowerment"

There's a Chinese proverb, "Teaching benefits teachers as well as students" (教學相長). Giving talks and becoming a mentor enabled me to consolidate my experience of translating plays, which definitely helps my future translation work. Play translation is a specific subject and there has not been much literature on it. It was such a joy to share my experience with the Emerging Translators and to know that they have been inspired.
Wu Hoi Fai
Veteran Translator
Plays for Young People III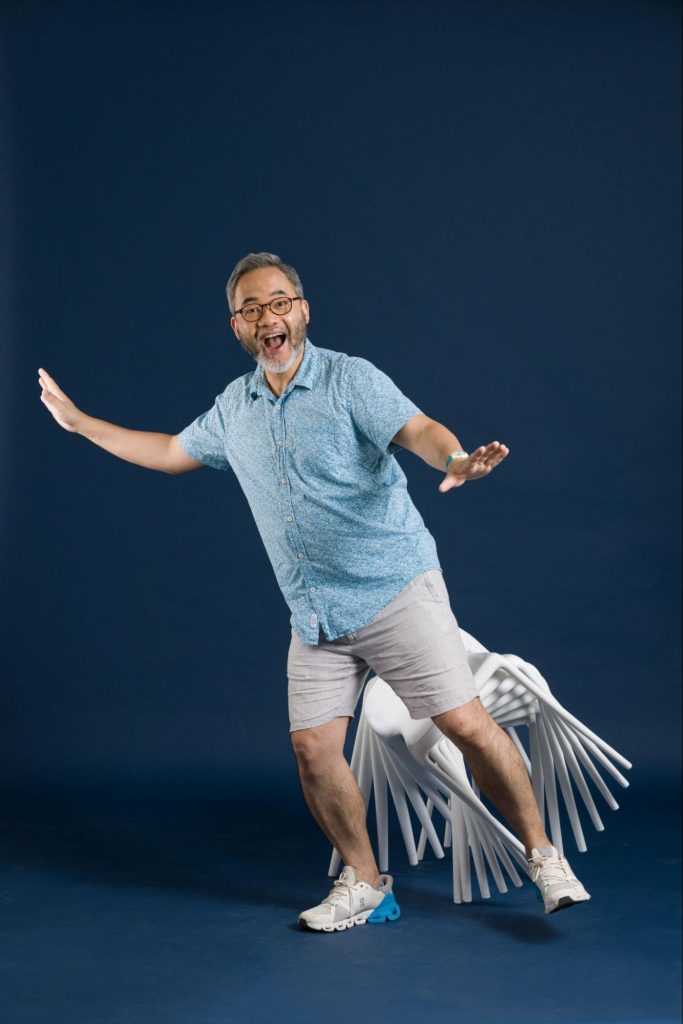 For most people, green is just an ordinary, everyday colour. But in this past year, the colour green has completely transformed my work through the use of green screen filming (chroma key compositing); I painted my studio walls green and also put down a green carpet. Although not a new technique, I was determined to use green screen filming to overcome pandemic restrictions and produce breakthroughs and amazing results beyond the expectations of my clients.
During planning for The Sneaker Show and faced with great uncertainty over venue restrictions, I advised the producer to consider using green screen filming. With much discussion and forward planning, we were finally able to film the production combining the latest software and computers to produce a high-level production beyond our expectations. The pandemic may have brought about many unavoidable restrictions in my life but at the same time, it could not limit my imagination and determination to explore new avenues.
Szeto Wai Kin
Production Filming
Classics for Juniors 2021: Walking the Amazon
"From Page to Stage®" Programme 2022: The Sneaker Show