Jockey Club Arts-based Cross Curriculum
Creative Learning Project
Funded by The Hong Kong Jockey Club Charities Trust, the Project is a 3-year long endeavour designed to complement the Hong Kong school curriculum to foster whole-person development and life-wide learning in students from Keystage 2 (Primary 4-6). The Project focuses on a thematic, cross-curriculum project learning approach to nurture self-directed learning capabilities in students. The theme for the first year is "Building".
This student-centred creative partnership project aims to prepare young people for the challenges of the 21st century by developing their Creativity, Critical thinking, Communication, Collaboration skills for Contribution to social capital ("5Cs"), bringing about an increase in creative practices in schools through the training of teachers in collaboration with Creative Practitioners (CPs).
Through creative classrooms, cultural outings, blended learning, knowledge exchange with local and overseas experts in inter-school showcases, the project will also reach a network of schools and teachers beyond the project participants.
What inspired me most is that the creative classroom is not about the hardware, but the psychological preparedness of the teacher to be willing to listen, allow the students to choose, accept mistakes or uncertainty, work flexibly and value the process over the result.
Lui Ying Ying
Teacher, Yan Oi Tong Tin Ka Ping Primary School
In the past, I worked by the rules and wanted the students to follow instructions within strict limitations to allow my class to run smoothly. Now I understand my thinking and behaviour have to change and allow greater participation by the students, to follow their lead more and the lessons may become more interesting too.
Hung Ying Ying
Teacher, Tin Shui Wai Methodist Primary School

This programme gave the students confidence and the chance to understand themselves better. Last term, some of them didn't speak at all, they didn't know what to do or were even afraid to try. I reassured them there is no right or wrong.
When the students felt validated, their confidence began to grow and our interactions became more substantial. They were willing to hear my point of view and their actions became bolder too.
Ko Bin Lin (Koko)
Creative Practitioner
The biggest difference between this programme and a traditional class is being allowed to take our own initiative as opposed to being passive. Here we are given a high degree of autonomy and allowed to be creative, express our thoughts and opinions to show and execute our creative abilities. In the traditional classroom, these elements are all missing and we must follow the teacher's instructions.
Student, Shun Tak Fraternal Association Lee Kam Primary School

Creative Conversation
Creative Learning Matters—The Arts & Beyond
A free public forum was held on 9 July 2021 in JC Cube, Tai Kwun and live streamed on AFTEC's Facebook page.
Officiated by Vincent Liu Ming Kwong, JP (Director, Leisure and Cultural Services Department) and Winnie Yip (Executive Manager, Charities (Grant Making – Arts, Culture, Heritage and Talent Development) of The Hong Kong Jockey Club), a host of young people, scholars and practitioners from diverse fields discussed how creative learning cuts across diverse disciplines. Distinguished speakers Ms Connie Leung Kam Ling (former Executive Secretary, Chinese YMCA of Hong Kong) and Professor Gabriel M Leung (Dean, Li Ka Shing Faculty of Medicine, The University of Hong Kong) shared how social work and medicine have benefited from creative learning.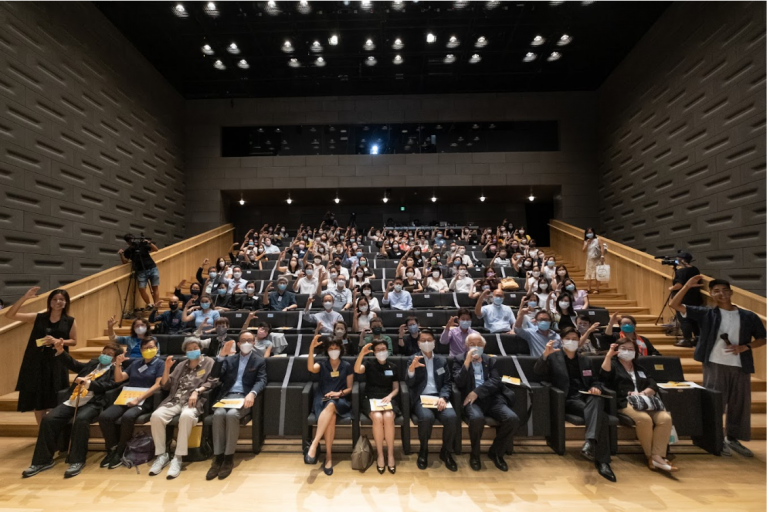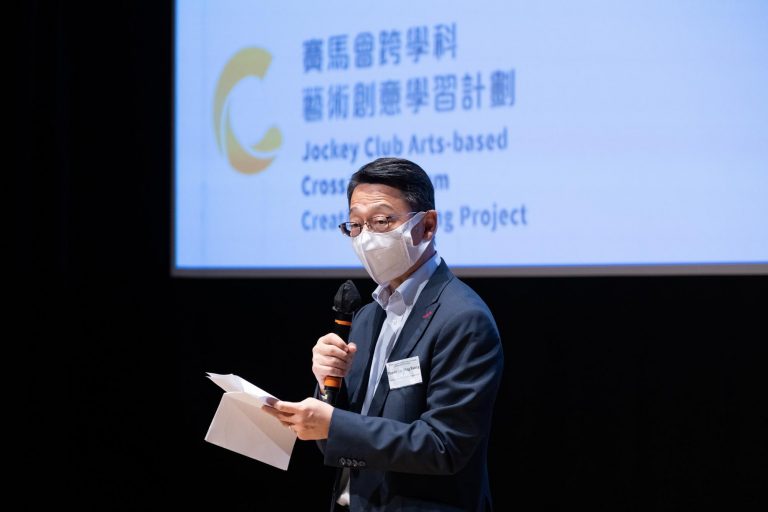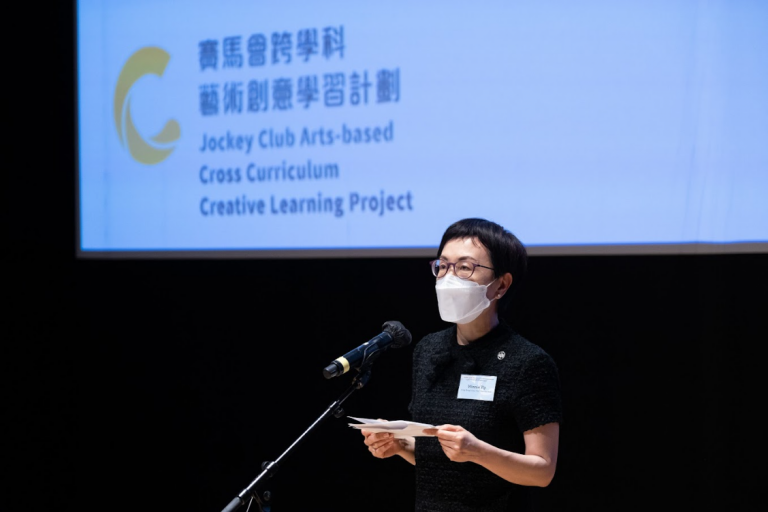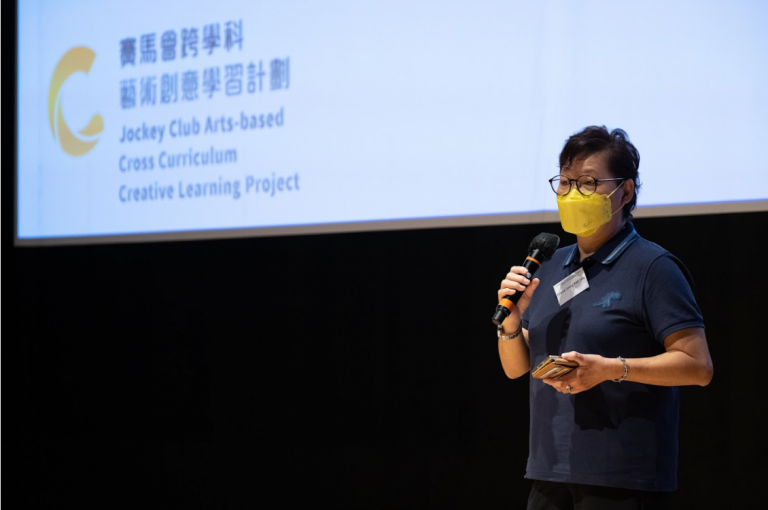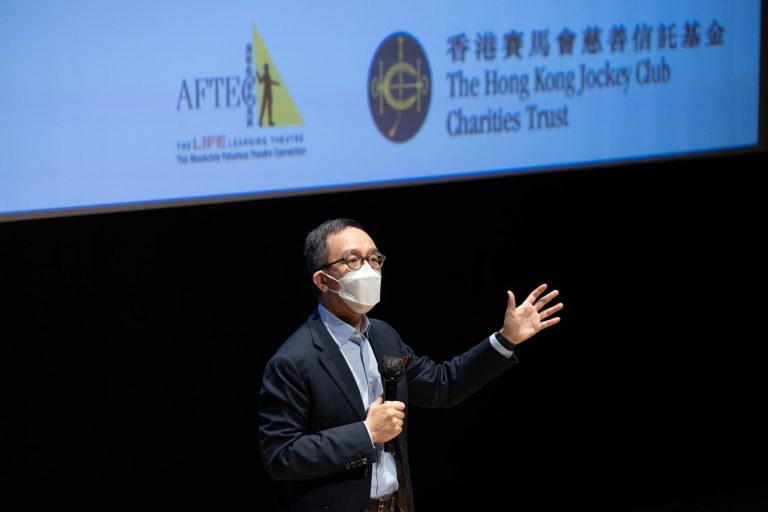 Expression has various forms and that makes a person complete. Creative thinking/learning plays a very key role. In the current social climate, creative thinking is also a way-out for Hong Kong people to express and share.
Participant
Training the Trainers
The Train the Trainers Workshops (2,5,6,8,9,12,13 July 2021) and a Refresher Workshop (20 December 2021) allowed teachers and CPs to review and reflect on their creative process, in order to refresh their creative mindset and techniques.
Creative learning has led me to a different level of teaching. I ask the students more questions, allowing them to observe and use their imagination more; they in turn are less afraid to answer questions and to exchange views, they enjoy classes more.
Hui Wai Kam, Jean
Teacher, Christian and Missionary Alliance Sun Kei Primary School (Ping Shek)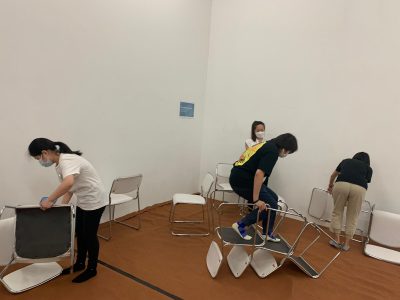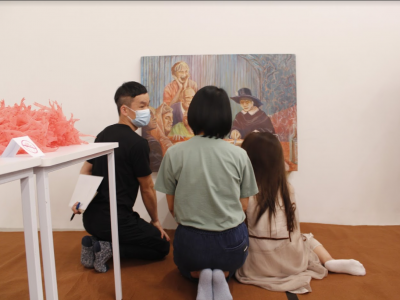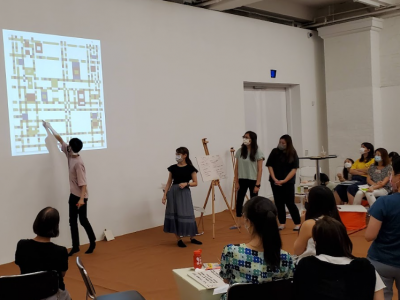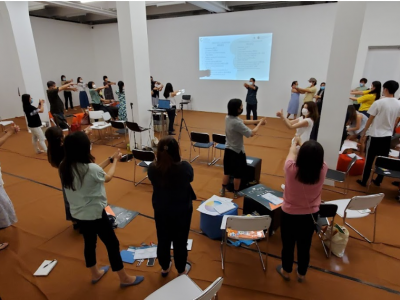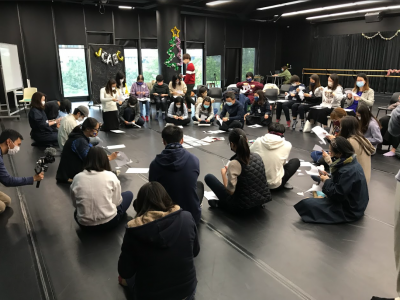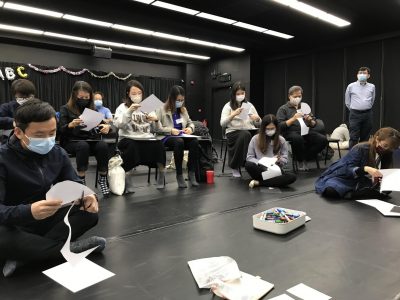 Creative learning is not an easy door to walk through – it requires both teachers and students to learn, reflect, make changes and break boundaries on a continuous basis. We have to learn new ways of creative thinking and learning and for this to become the norm gradually.
The workshop opened my understanding and vision of creative learning. Before I wasn't certain of my own creativity, but after the workshop I understand we each have innate creative abilities which can be developed continuously.
So Man Ching
Teacher, Ma On Shan St. Joseph's Primary School
In these past months, I have learnt that a low-functioning and high-functioning class are not mutually exclusive. Based on the differing needs of the students and situations, and with the teachers' appropriate supervision, we can give the students a more effective and enjoyable experience.
STICKYLINE
Creative Practitioner
Parents' Workshops
The Parents' Workshops (2 October 2021) provided parents of JCABC students with a creative learning experience through a variety of interactive activities. It offered them an insight into how children in the rapidly changing 21st century can enhance their diverse capacities to meet the challenges of the future.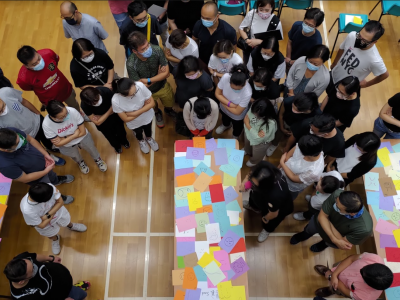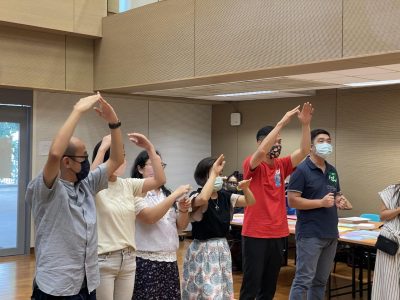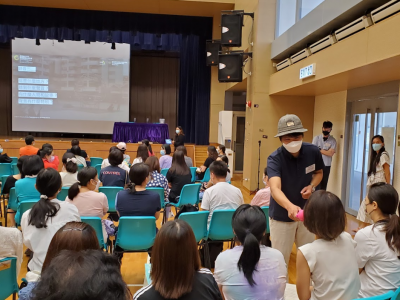 The Workshop taught me the importance of creativity. Creative learning is about imagination, innovation, and learning with an open mind.
The workshop activities allowed parents to experience the learning and communication methods that use sensory experience, interaction, hands-on practice, all of which allowed a variety of answers! It really expanded my horizons. The programme can only bring benefits to society. What an interesting experience!
Parent Participant