Jockey Club "Arts & Actions" Project —
The Absolutely Fabulous Theatre Connection "Arts for Empowerment"
A 44-month project focusing on developing an arts-based curriculum in conversation with teachers, social workers and students from Schools for Social Development from 2019 to 2022. As part of the Special Education Needs system, AFTEC created a diverse educational space for teachers, social workers and students at Tung Wan Mok Law Shui Wah School (Tung Wan) and Caritas Mother Teresa School (Caritas), as well as to assist the former in developing a black box theatre.
This project broadens the artistic horizon for teachers and students through Cultural Days, workshops for teachers and AFTEC Lab. "Arts for Change" was adopted as an alternative approach to facilitate students' self-understanding and the development of their individual potential through applying the power of the arts to foster layered and nuanced emotional connections.
AFTEC Lab offers opportunities for students to develop their confidence and connect to the community through theatre and theatre arts. In May 2021, students from Caritas joined the Walk in Hong Kong programme and visited the elderly online. Students from Tung Wan worked with a multimedia artist and sent out 2000 photo albums to various institutions and organisations in July 2022.
principals, school teachers & social workers
hours of face-to-face regular classes
sessions of online learning
Train the Trainers workshops
Train the Artists workshops
Caritas Mother Teresa School
Lower secondary students discovered and developed their interests through a variety of taster sessions in the theatre arts that encourage creative thinking and expression.
The styling course undertaken by upper secondary students gave them a chance to deepdive into costume design, make-up and hair styling. Apart from gaining professional knowledge, students were able to connect through the arts, empowering their voices and stimulating their imagination. The school then arranged for students who showed interest and talent in make-up and fashion design to take short-term courses for further career development.
I used to believe that story-telling was just about being eloquent and expressive, that it's a success as long as I can captivate the audience. But now I understand that the key is the student, not the storyteller. What is actually important is for the student to feel, imagine and reflect on the story, to obtain something of value from it. Their observations, understanding and interpretation come from their individual viewpoints which may differ from the teachers' educational objective. The point is not to impose the story on the student but for them to hear it through their internal lens and to experience a different world.
Chan Yuen Ying
Teacher, Caritas Mother Teresa School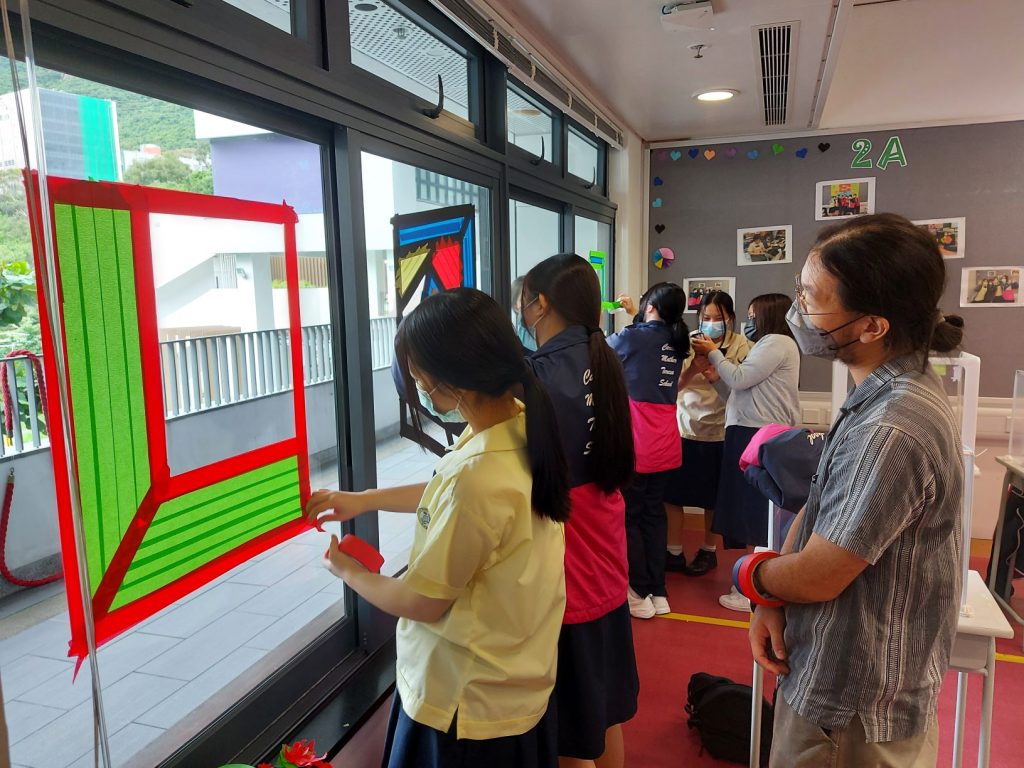 Some people think that the arts are grandiose but in fact, they exist in our everyday lives. How we experience life, how we interact with others and express our emotions, these are all part of the process of the arts. We each experience life differently but by interacting through the arts, we can appreciate each other's differences and understand that there is no right or wrong.
Sylvia Lau
Artist Educator
I never actually believed I had the ability or opportunity to pursue costume design because I never experienced any feedback to my work. During the course, I also learnt the patience to understand someone else's thinking and how to get along with others, for instance. Now I truly believe in my own abilities so in my free time, I am taking courses in costume design to further my dreams.
Oleta Suen
Student, Caritas Mother Teresa School



Tung Wan Mok Law Shui Wah School
By observing, listening, feeling, imagining and interpreting, students learnt to create stories and characters. Through these stories, students reflected on interpersonal relationships and values, giving rise to a platform to voice their feelings and emotions.
Primary school students were inspired and connected with each other to develop plots, scenarios and characters. Their communication and social skills improved through working in small groups.
Through the stage design and production foundation programme, secondary school students acquired professional skills that offered an alternative career path in the arts in which they can express themselves and unleash their creativity.
It is so important to allow students the space to express themselves creatively – to allow them to fully experience the outcome without limitation or judgment, without feeling pressure or shame.
Mose Mak
Artist Educator